In 2015, Seeds of Wisdom opened a school in Pukuka, South Sudan (a small village near the larger city of Yei, South Sudan). During the 2016 academic year, many families were forced to flee the area due to violence. We have located many of our former students and their families about 50 miles south in refugee camps in northern Uganda. We have continued our mission to provide education for the children of Pukuka by sponsoring 46 children into two Catholic boarding schools and by providing tutoring in two refugee camps for additional former students. In spite of many challenges, many of our students are thriving – their families are grateful that we continue to walk with them. This Advent, we want to share their stories to celebrate their achievements as they near the end of the 2017 academic year.
The children being sponsored are attending two schools, St. Kizito Catholic School and Ediofe Girls school which is a government funded primary school. The children attending Ediofe have had to learn another language – Lugbara – as it is the primary language for the children in this area and in primary 1 – 4 at Ediofe, the classes are taught and the tests are given in the native language.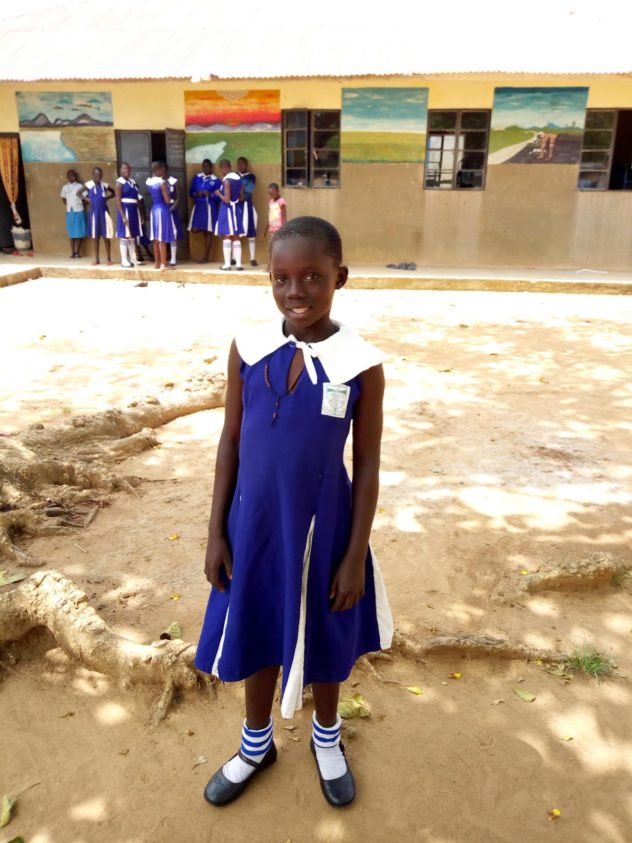 This lovely young lady, Patience, is an example of the adaptability of the children in learning new languages and adjusting to a new culture while attending school. Patience is first in her class despite the language barrier and has adapted well to this completely new environment. Her future continues to look bright and brings her hope and a lovely smile!
Gifts of any size are greatly appreciated and fully tax deductible. Click on the Donate button below for a quick and easy online donation. You can also contact SOW at info@sowsouthsudan.org for more information on how to support Patience and all her fellow students.