The seed that falls on good ground will yield a fruitful harvest.  (Matthew 13:8)   This verse is the theme for our Seeds of Wisdom benefit dinner on Sunday evening, Sept 25.
Even within a refugee camp, the Lord's fertile ground can be found!  Thanks to your support, we are helping yield a fruitful harvest: 237 children in school, most who would not otherwise be gaining an education – truly a bountiful harvest that will lead to brighter opportunities for them, their families, and their country.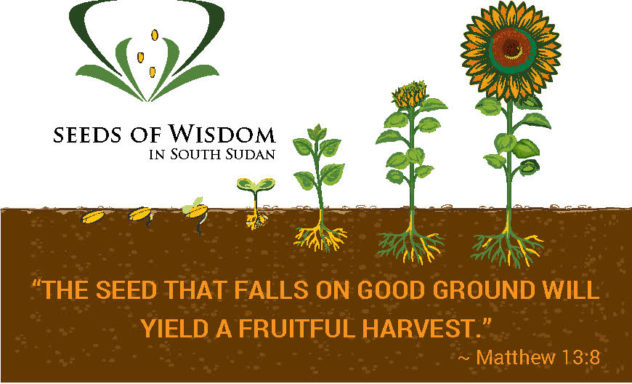 The local South Sudanese St. Bakhita Choir will provide entertainment for the benefit dinner.  We have many fun silent auction baskets.  At the live auction, you can bid on some special events: a gourmet dinner from Fr. Mahon, a 4-night vacation at Bigler's Little Eagle Cabin on beautiful Lake Vermillion in northern MN, a hot-air balloon ride and other great items.  Former KROC radio personality and longtime St. John's parishioner Dave Pelowski (a.k.a. Kim David) will be your emcee for the evening.  We'll bring you up to date on the education programs, our students, and our teachers.
We are in our 8th year educating these kids.  Your prayers and donations continue to make a significant impact.  We now have 20 kids who have passed the entrance exam and are in Secondary (High School) – including one of our students who achieved a record score and was awarded a local scholarship to a highly respected school in the Ugandan capital.
Dinner will be soup and salad and dessert, catered by the Canadian Honker.   There are a vegetarian meal and gluten-free dessert options. Please join us for a night of celebration in the success of our children as well as support for their future.
We are still accepting donations for live auction items and silent auction baskets.  And, we have some volunteer opportunities for set up and clean up.    Please email info@sowsouthsudan.org if you are interested in assisting us!
Benefit Dinner tickets are on sale in the parish office, and after most Masses.  Tickets are $50 ($25 for 12 and under) and are 10% off through Sept 14.  The event will be on September 25th, doors opening at 5:45 PM, at the Co-Cathedral of St. John the Evangelist school gym.